MRP et CONWIP : qui gère quoi ?
Je voudrais montrer ici ce qui se passe quand on pilote en mode mixte avec MRP et CONWIP, et comment les deux outils se complètent en prenant chacun leur part dans la gestion des pièces.
En fait, quand on associe MRP et CONWIP, chacun des deux outils récupère un rôle bien précis en planification et en gestion d'atelier.
La gestion des stocks pour MRP
Dans MRP, une pièce fabriquée et stockée est identifiée dans la nomenclature sous la forme d'un code article. Quand on configure MRP, on entre des paramètres de gestion (stock mini, stock maxi, stock de sécurité, taille de lot, …) pour les différents articles. Ces paramètres s'appliquent au moment du calcul des besoins quand il génère des propositions de fabrication.
En ajustant ces paramètres, on gère avec l'outil MRP les stocks de nos articles en magasin, que ce soient des produits finis, des sous-ensembles ou des articles intermédiaires fabriqués.
La gestion des en-cours pour CONWIP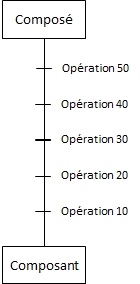 Entre deux niveaux de la nomenclature, une gamme décrit la suite de nos opérations pour passer d'un article composant à un composé.
Un lot de pièces qui se trouve entre deux niveaux de nomenclature, à une étape plus ou moins avancée de la gamme, est considéré sur le plan comptable comme de l'en-cours et non du stock.
Dans le système mixte, c'est le CONWIP qui pilote cet en-cours en assurant que sa quantité reste limitée et constante, et qui détecte les postes où l'en-cours local devient trop élevé.
Pour les deux : la gestion des Ordres de Fabrication
MRP va calculer quelle référence doit être fabriquée, et en quelle quantité en fonction des besoins clients et des paramètres de gestion (stock de sécurité, taille de lot, …). Des OF vont être proposés par MRP pour fabriquer les composés. Mais c'est le CONWIP qui permettra d'engager effectivement les OF sur la ligne, à la condition qu'un ticket soit disponible.
On est dans un mode mixte où MRP pousse les propositions d'ordres de fabrication à partir d'un calcul des besoins et CONWIP tire le lancement de ces OF sur la ligne au rythme de ce qui en sort.
Finalement, MRP va gérer les stocks ainsi que le choix des références à fabriquer grâce au calcul des besoins, tandis que CONWIP va gérer les en-cours entre deux niveaux de nomenclature grâce aux étiquettes et au pilotage visuel.
On voit que dans ce mode mixte on dispose de deux leviers différents selon que l'on veut diminuer les stocks ou bien les en-cours. Pour les stocks, il faut ajuster les paramètres de MRP. Pour les en-cours il faut agir sur le nombre de tickets CONWIP. Il y a également un réglage qui joue sur les deux tableaux : c'est la taille des lots. En réduisant la taille des lots fabriqués, on diminue l'en-cours mais aussi le stock car les quantités entrées en une fois dans le magasin sont plus petites. On gagne ainsi en délai de fabrication et en Besoin en Fond de Roulement sur la totalité du flux logistique interne.